A last minute sprint this morning through Venice to complete a very important mission: to secure what one simply cannot leave this island without -- a mask. First, we tackle the challenge of finding one of the several Rosa Salva patisseries in Venice. It's a famous name when it comes to delectable ways to try and increase the size of my growing food baby, having been in business since 1879.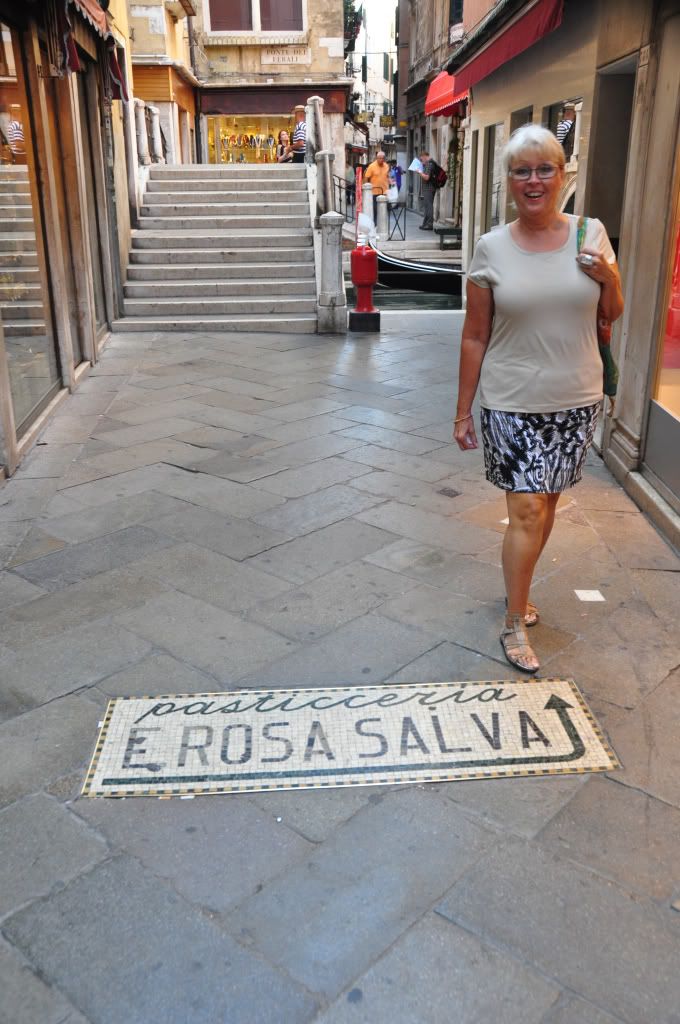 Not disappointing, that's for sure. I get Creme Cotta Forno, which is like shortbread baked with a custard on top. Its still warm from the oven and simply to die for. I pick up a few other amazing things, including marzipan. I may be the only person on earth who actually likes that stuff. Molded into fruit shapes and painted to resemble apples, peaches and cherries, it's like eating a tiny piece of art.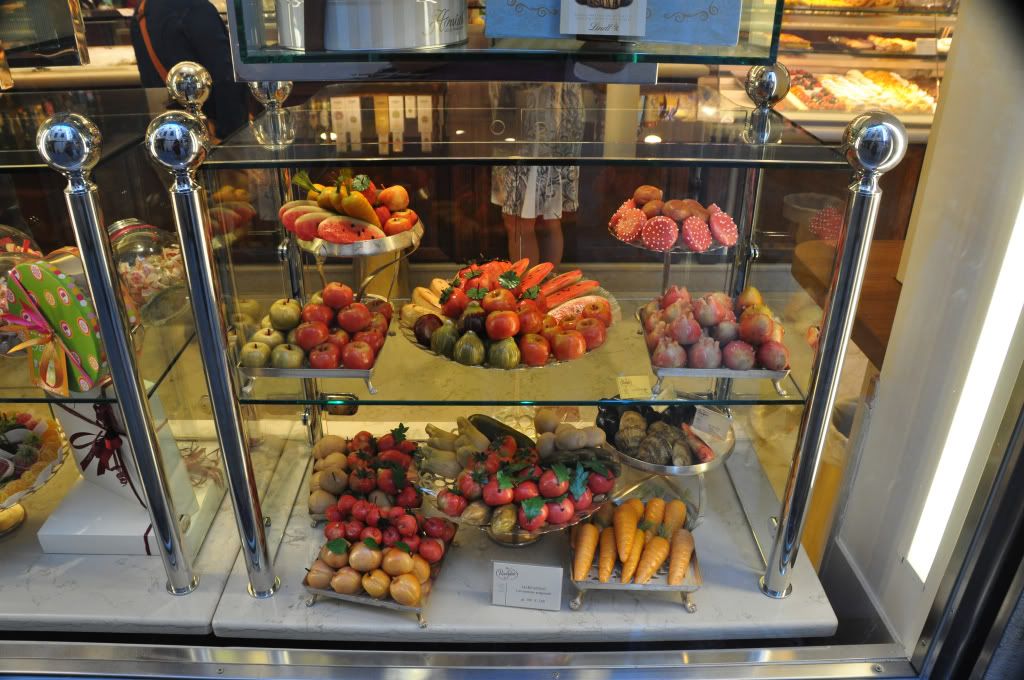 Back to the masks, of which I am now the proud owner of not one, but two. The first is a lovely white metal number in a style the shopkeep referred to as "tattoo", as when worn, it looks like a tattoo around the eyes. The second is a bit more fanciful, with pink feathers and gold glitter. It is mounted to a stick and makes me think I need to rent Amadeus soon. I remember seeing these for the first time as a kid in that movie and being smitten. As if seeing Don Giovanni the other night hadn't already put that idea in my brain. That work was written by Mozart, whose life the film is about. I'm also feeling a Halloween masquerade party may be in order -- not that I need an excuse to wear this. I may just wear it to work. Or shopping, or just to clean the house. When you see people walking around your town in a mask, you'll know who started the trend.
I don't suggest wearing them to the bank, though. Just to be safe.
As is our typical form, we are late getting back to the apartment to collect our things. The funny thing is, just as we are leaving, I discover the trick to getting around Venice -- don't give a
where you are going. 

Look, I'm serious. The other night I was ready to curl up in the fetal position in the middle of the street. I was literally at my wits end. The street names on the map and on the streets don't correspond, and there are sometimes two or three names on one sign (I realize later the first is the one you are on, the second typically the next street and the third can be either the name of the bridge or the canal.) And get is... I wish we had a freaking flashlight. Please don't tell mom I said that. I would hate to admit she was right about that. She was a trooper, though, to deal with me and my craptastic mood. I finally threw my hands in the air, put the map away... and we walked straight there. 

Son-of-a-biscotti.

It works just as well the next couple times we try it, so here's my advice for Venice: don't waste money on a map. Spend it on wine and pastry and get lost. It's worth it, I promise. Or here's am idea... get some red twine and tie it to the door of your hotel, then you an just follow it back. No... it won't work. I thought of the Hansel & Gretel bread crumb thing and the damn pigeons will eat your trail. I've had more close encounters of the bird kind than I care to mention in Venice (that's mom's line, I must admit...)



After our 60 private taxi ride, we decided to skip the gondola at 80 euros. Mom says it's too expensive and I'm game for saving it until next time I come with the man I love. Speaking of love, there's just one thing I'm bringing when I return... bug spray. The Venetian mosquitoes heart me to welts. I look like a huge game of connect-the-dots. I think they may be working on Van Gogh's "Starry, Starry Night." They're really quite talented.

We are on our last train, heading for Milan now. In two more days, it will be a plane home. I've had so much fun, but I'm ready to go. My brain is full of all the beautiful things I've seen in a month and so is my iPad -- of pics, I mean. We both need a download. Some downtime. No ret for then weary,though, as mom asks me to lean over and examine her eyes to pick out what colors are in them. She's so cute. 

And crazy.

Tonight is a big night for us. We are going to La Scala, one of the most famous of all the opera houses in the world. I adore opera, whic is one of those things you either love or hate. It makes for a great way to weed out men. It's true. I can tell you that there have been several times in dating that I have mentioned this fetish and I have never heard from a suitor again. That's okay... we likely would not have made a good match. It's that same with my job at NPR. If it tell someone where I work and I get a blank stare... check, please. 

Must be cultured. And love dogs.

It is opening night, which is a real event at La Scala. It means digging out the fancy clothes we've drug across Italy for weeks. A black velevet evening gown for me, and long black palazzo pants with a velvet top lined with fur for mom. To the nines... as only we can do. Of course my inner crow will be rocking things that sparkle -- antique costume jewelry I inherited from my great grandmother.

We will see a comedy by Richard Strauss -- Der Rosenkavalier -- adapted in part from a novel by Moliere. It was written in January of 1911 and the success of the premiere led to its being performed at La Scala just two months later. It is one of the composer's most famous works. Strauss loved the female voice, and Der Rosenkavalier features three main female roles, each a point in a complicated love triangle. One, Marschallin, a deepmand dramatic soprano, is an older woman with a young lover. The second, her lover, Octavian, is a male role sung by a woman... a mezzo-soprano. The last is the younger woman Octavian falls in love with -- Sophie, a high soprano. The finale of the opera is a trio and duet sung by all three. 

I admit one thing to you here. The German language is not necessarily sexy. There is a harshness to it that you wouldn't think would lend itself well to operatic singing. There are some pieces I have on my iPod that I love, so I am very optimistic. This will be my first German opera. And thankfully... there's supposed to be English subtitles. Just in case... I'll say goodbye for now so I can go read the synopsis I've downloaded.