La Scala. 
This is a weird post to write. This experience has been so hyped up for months, do I'm going to just stick with the facts.
1. This is a beautiful establishment. The glimmering chandeliers are amazing, the common areas luxurious, the theatre and boxes gilt with plush red velvet, rich brocade tapestry and gold accents. Gorgeous.
2. The orchestra is phenomenal. The music bright and clear. It was, at times, overpowering and thus difficult to hear the singers over the music. I'm not sure how a delicate balance is struck with something like that, but I'm sure it is difficult. I will say that this was not an issue at Theatro La Fenice, however, I didn't thing the quality of the music there as as good.
3. In Venice, the sets were absolutely spectacular. Perhaps I was simply in awe of how they moved seamlessly during the performance, allowing the actors to change from one to the next as PART of the performance. They walked out a door and onto the next set while the audience watched. You could see the floor move as the beautifully decorated "rooms" changed before your eyes. It was simple spectacular. The sets were a huge disappointment for me with Der Rosenkavalier at La Scala. There was a mirrored back drop that moved during the performance slightly to cast reflections in different ways. An image of what a wall or scenery might look like was projected onto this, creating the look of a wall on the mirror. The problem is, it didn't always line up, making it unrealistic. There was also what looked like a ceiling you would see in an office building, with the same awful unnatural light emanating from it. Pieces of furniture, and even two carriages (sans the horses, though there were dogs at one point) were moved on and off stage between acts mostly. It just reminded me of Vegas. I wouldn't have expected Las Vegas at La Scala.
4. For as much as tickets are here. You would expect seats with a back. We are in a box with six seats, each a bit taller than the one behind to help with viewing. We are in the back. On the left, the view is partially obscured, which is easily remedied by dragging the chair over. That means, sadly, that there is then no wall to lean against. So, sitting on what amounts to a bar stool for four hours. Fun... and it's hot as Hades.
5. I don't like German opera. I like sexy, talk dirty to me, sounds hot and romantic Italian. It just doesn't sound pretty. That is certainly NOT to say that the singing isn't superb. The mezzo-soprano las night was marvelous. All three sopranos, in fact. It just was not a Pretty Woman moment. 
It did, however, almost pee my pants when we stopped at McDonalds afterwards, which looked like a lounge, and I ordered BEER. Oh, Ronald... you bad clown, you. Holding out on us Americans. It was cold, just like the food, but nice not to be staring down another plate of pasta.
I think we're ready to come home.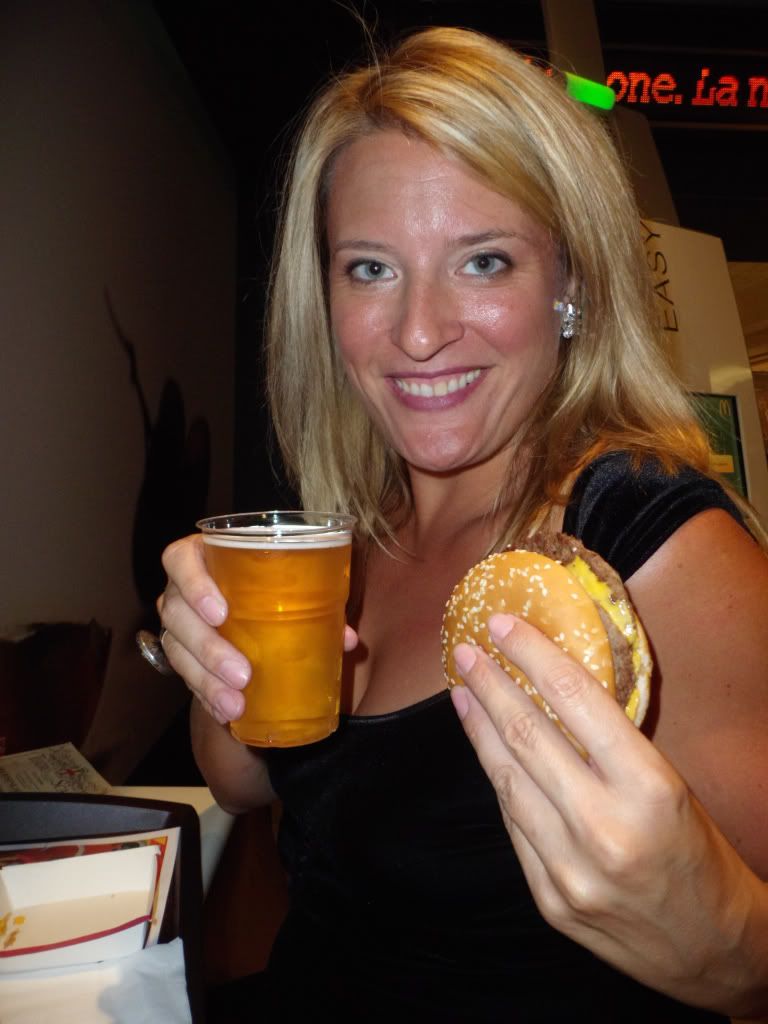 Home. That reminds me. In our rush to get out the door to the theatre, I didn't bring the address with me of the apartment where we are staying. Or the phone to call our hostess. 
This should be fun.