The bus ride from Massa Lubrense to Positano is stunning. The road along the Amalfi Coast is as narrow as they say, and the busses just barely fit past one another as scooters dart in and out of traffic. Mom had her eyes closed some of the time, but says she didn't think about it that much. For me, it wasn't the white knuckle experience it was made out to be, but was still amazing. I like white knuckles.
Positano. We got off the SITA bus at the top of the city and started making our way toward the beach at the center. Loved this little postcard of a town, with it's steep switchbacks lined in all manner of boutique. I finally bought some limoncello, which I tuck deep into my backpack to pretend I don't have to carry it around the rest of today.
Yeah... I got the large.
We stop soon after arriving at Cafe Positano for breakfast. We began speaking Italian to our waiter, who in English, informs us it would be much easier to communicate in our own language. He's from Hungary, working here for a few months. We both had omelets. Mine was not cooked through, and though I have a tiny problem with runny eggs (consistency violation), but it was still very good. I've missed eggs.
After poking in and out of stores, where I pick up a skirt and mom and I both get little bathing suit cover ups that will double as dresses, we head down to the public beach. Just before the water, there are small sooth black stones leading to the black sand. I can't help picking a few up, as I always do, when I am somewhere special. I have an extensive shell and stone collection back home. Nor can I resist taking my shoes off and sticking my toes in the water, which is clear and cool. My feet and legs are sticky from the salt when I climb back onto the dock. Mom has waited up on the promenade, and when I join her, we are looking for a place to wash them off before I put my shoes back on. I hate to anger the shoe gods less they send their minions to chew my feet apart again... since they actually feel better today.
I spot a drinking fountain overshooting it's mark with some little kids playing in it. I slosh around in the puddle they have created, then indicate I want more. The little boy manning the controls smiles wide and puts the water on full force, as it arcs well past the fountain and on to my legs. They are all giggling watching me wash up. Mom hands me a tissue to dry off, but not before shooting me an, "I told you these would come in handy" look.
Whatever. They are not for my bottom, but the bottom of my FEET.
We purchase high speed boat tickets for Amalfi, despite having the bus passes. A different vantage point wold be nice, and we are not disappointed... it is a lovely ride watching the houses stacked on top of one another all along the coast. We positioned ourselves right in the front and the breeze feels good. It's been hot, which is more tolerable today in a skirt than it's been with Earl. The ride isn't long, and soon, were disembarking.
Shoot me for saying it, but I'm not impressed. Amalfi is so touristy, and most of the stores just seem to have junk. We end up getting gelato -- twice -- but I'll be saving all my experiences with Italy's favorite snack food for my gelato review at the end of our stay! I end up buying a piece of pottery, which this region is famous for. It isn't the standard issue intricate work that you typically see. It's kind of like the outlet version of Coach. Still Coach... still Campania pottery... but not REALLY as bragable. Why not? You may LIKE your outlet bargain better, but apples to apples, some would argue the "real" Coach is $499 and the one you got is $199. Why does that matter? My stance is that it doesn't. If I like my inferior, atypical pottery better than what they are selling at twice the price, who cares? I paid 25 euros compared to 150 for the one the sales lady insisted was more traditional but I didn't like as much. 
Anyway. I don't really have much else to say about this famed town, so let's move on, shall we?
Ravello. Good to the tenth magnitude. Loved it, hated to leave. Had so much fun, which is clearly demonstrated by how many euros I leave behind. The first place we stop is another pottery store, Villa San Cosma. The people are uber friendly and speak good English. We get into a conversation about the threats of a terrorist attack on the anniversary of 9-11. I talked to a friend from DC who says they're on high alert there and in New York. The guy in the store flashed me some sort of security card and tells me not to worry... there is no real threat. I'm confused, given that he also says he runs a limo service, but thank him for reassuring me those i care about are safe. I literally knock on wood. That gets them rolling. One of the guys knocks on his head and says, "capa tosta," which means "head of wood."
You might think that's what I have when you read this next part given my Amalfi testimonial a minute ago.
I fall in love with another "atypical" piece of pottery -- though slightly more traditional  than the piece I bought in Amalfi. This, however, is just as  expensive as the regular stuff. So I buy several pieces. I mean, the lady makes perfect sense in telling me she will ship it all home, including the Amalfi plate and several that mom buys for 30 euro. That's actually a great deal, comparatively speaking.
I'm rationalizing.
I do believe in one thing while traveling -- buy art, and buy stuff you will use. This is both.
Sorry. Rationalizing again.
Look. It's my freaking birthday. I'm in Italy. I wanted the damn bowls and I'm not going to feel bad about it. 
What I AM going to do is have a drink. This is where things get really interesting, and Amy does something very out of character. No, not the drinking part. Any of you who know me well enough have seen the damage my liver can withstand. And has, time and time again. It's the BUYING part I'm referencing. I am a wine consumer, not necessarily a connoisseur. 
As we wandered through Ravello taking in the sights, the shop keeper of a wine store invites us in for a tasting. Yes, please. But this isn't a tasting. This is a gulping... and this guy isn't pouring crap. The first we try is a Terredora 2003, which has the most amazing tobacco aroma I've ever smelled. Then it's a Brunello di Montalcino 2004. Both are reserves from this region. I like neither, but describe what I do enjoy about each. He pulls out a  wine that makes me happy. It's a 2007 Pomorosso. It does a little dance in my mouth, and baby, this wine's got moves like Jagger. Now this guy has my number, and it's a 1999 Barbaresco Prunotto Bric Turot.  Now... this is a wine I could grow old with. A wine to keep me warm at night. I won't even tell you how much my purchase is, but am sure he overcharges me by a lot. I see a very special occasion in my future and possibly a call to my credit card company. 
Rationalizing.
The wine store owner, Branko, is from Croatia. The place is called Wine & Drugs. I can'texplain why, and he can't seem to, either. I ask him about his baseball hat, which is clearly American, with the USS Albany embroidered in gold across the top. He points to a collection of baseball caps and explains that customers send him one from where they live when they're case is delivered. I spot a University of Michigan cap and almost have a heart attack. I make him promise when I send him a cap from Michigan State University, despite not buying a case myself, that he will put it in front if this abomination. Go Spartans!
We have a wonderful dinner at this place in Ravello called Figli di Papa. Mom orders gnocchi, while I try the veal and mushrooms. The rice balls are delicious. I realize now that I should have written down what they are called, since "rice balls" sounds so classy, but it is what it is. These mozzarella things that come on the same plate are to die for.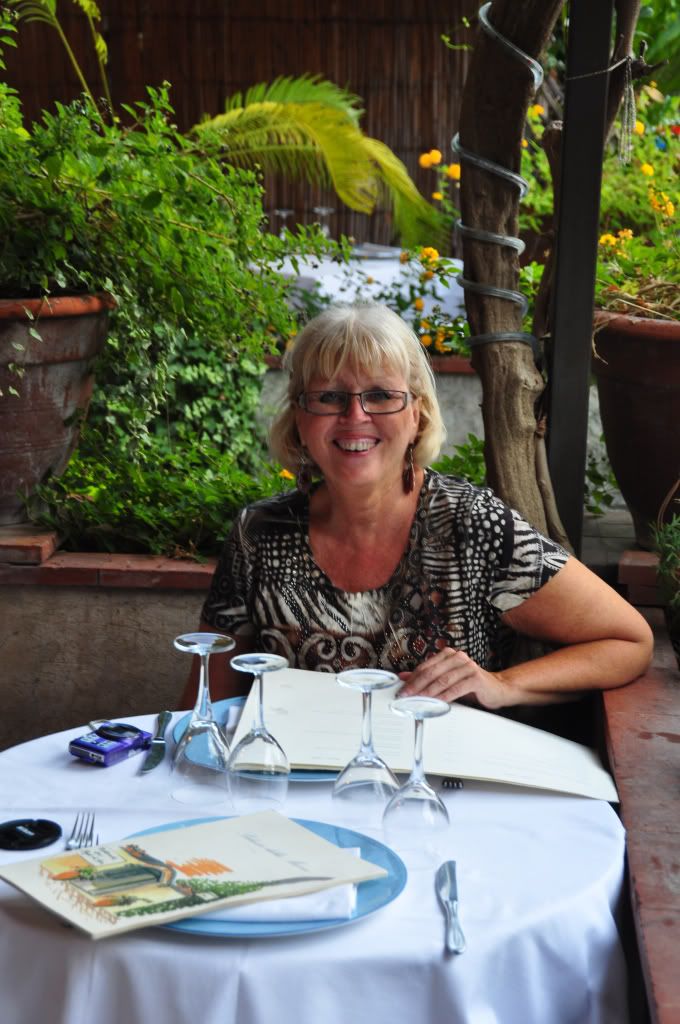 Despite perfect planning, an early arrival and a confirmation with the bus driver, we still end up going all the way to Sorrento instead of arriving at the Bivio Titigliano stop as we requested. If you don't understand the question, please, for the love of all that is holy, don't give an answer. Annoying, but not a buzz kill. 
There are women on the field tonight playing il calcio... or futball... or soccer. Equal opportunity sport -- like.
Still no bags when we get back. Mom and I are hedging our bets the freaking airline will wait until we arrive in Rome to deliver them. Easier for them, you know? Ah, well. Another day... a few more necessary items. Including that bathing suit for Capri. That's where we're headed tomorrow. AND Paestum. 
Ambitious, but doable.