I love Levanto. 
It is amazing to me how each place in Italy can be more intoxicating than the one before. We have again had a lovely day, which started for me with tea on the patio, checking email while mom showered. I can't tell you how much more convenient it is to have Internet right outside the room... I was actually able to Skype last night. Contact with the outside world is good.
We headed out to wander about town, stopping first in a patisserie to pick out something that looked visually appealing and hoping for the best when it came to taste. Mom gets a croissant with some sort of apricot jam and I end up with a tiny delicious apple pie. I think it had raisins in it, too. Whatever it was -- I am sure it will go straight to my ass. Things that taste that good usually do.
Next we stop in a few little shops, where I use my birthday euros from mom to buy a gorgeous ring. Then she's in heaven after walking into another shop to pay for a postcard, only to realize it's a bead store. I ask if I should come back in a few hours, but apparently, she couldn't hear me over the angels singing.
Amazingly, all this relaxation is making us hungry. That, or the fact that the gal at the bed and breakfast raved so much about the town's focaccia that we can't get it out of our heads. We ask a guy where mom buy stamps to tell us where to get the best, and his reply is independent verification of the place we've already been told -- 7 Oblo. He also gives us a runner up, and naturally, we decide to try both. The second is okay, but 7 Oblo is unbelievable. We have one plain cheese, and one with cheese, tomato and olive. I actually haven't enjoyed focaccia in the States, but Dorothy... we're not in Kansas anymore. This is so damn good. 
Mom wants to see the medieval part of town, so we walk over to where our hostess has indicated on the map she gave us a check in that would be. We run into a wall that looks about as medieval as it gets, spot a path, and start climbing. There are all these narrow little corridors that jut off the main drag to explore. And when say drag, I am referring to the incredibly uneven and rough stone road. It would be a total drag to drive any manner of vehicle on it. It's hard enough to walk on, let alone UP. Mom's lung capacity isn't good on a good day, making this is some sort of medieval torture, I'm sure. Regardless, it is stunning, and the steps we find at the top that finally head down deposit us steps from the beach. Mom rents a chair and umbrella, while I head off to rent a bike. We've been told about these abandoned train tunnels that lead through the next two towns over, and I am  dying to check it out.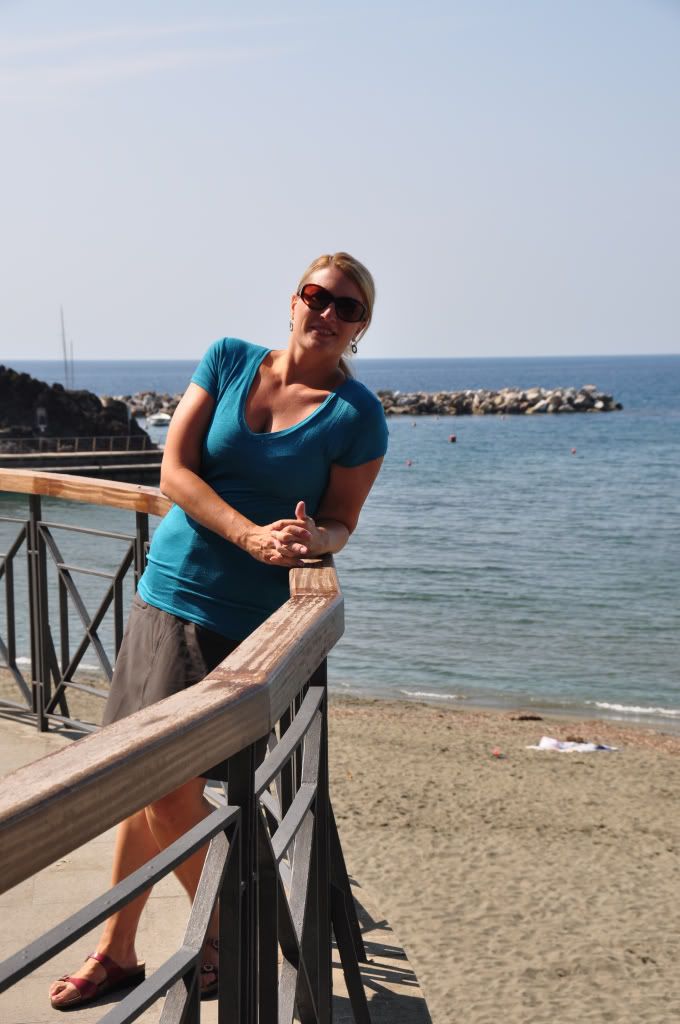 Foiled again. Of course, it's after 12 and everything is locked up tighter than a drum. I will never get used to siesta. I circle back to the beach and pull up a chair. I'm happy to see tops are optional. When in Levanto... 
There are stones leading to the water's edge as there were in Capri, but in so many different colors. I bend down to pick out a few and soon have a handful. It reminds me of being a little kid. In Florida, my grandfather had a huge sand scoop. He would wade in, pulling treasure troves of muck to entertain my brother and I when we were little. He would sift out the sand in the water and pile heaps of ocean floor in front of us. We would squeal to find sand fleas trying to dig their way back to safety, sorting through the wetness to find pretty shells and sharks teeth. I got really good at spotting the sharks teeth, but grandpa would marvel even when we would just hold up a fragment, a dark shard of nothing. This is one of my fondest memories as a child, and maybe why, at the age of thirty-seven, you can still find me squatting by the waves, picking pretty treasures from the surf.
The rocks stop right past the water line, giving way to heavy, soft sand. The  water feels great and it's so clear that even waist-deep I can still see the ridges of the sand formed by water swirling over. I lean back, let my arms and legs go limp, and give the rest of my stress to the sea.
After a few hours, mom heads back to the room while I go to rent that bike. The ride is about 10 miles or so total. The first few tunnels are really dark, then I remember I have my sunglasses on. Even with them tucked into my basket, it's still not very bright, which makes the ride a tiny bit spooky in the long, mostly deserted tunnels. It is musty, damp, and very quiet. All you can hear is the sound of the bike tires connecting to the pavement, and in the open, the sound of waves crashing against the rocks below. So exhilarating that I'm sure I am not doing the adventure justice here. I imagine what it would be like to do this with someone else -- a significant other. I'd like to come back here.
I drop the bike off and head back to get mom, but not before stopping off for some crack gelato. I've done it this time, gone and had something I cant resist telling you about. I've mixed pink grapefruit (actually sorbet) and vanilla. It is like an upscale creamsicle. So mother-loving good. Speaking of, she's curled up in bed when I get back.
I stop at a travel agent to buy our train tickets for tomorrow, but hold off at the last minute. I just have a funny feeling that mom and I may be on the same page. How right I am. She has already bought the tickets and had almost the exact same gelato... vanilla and orange. I jump in the shower and we head out to this darling little place called Le 3 Cantine for dinner. We start with Bruchetta Com Fonduta Di Formaggi, or cooked cheese with bruschetta. My eyes roll back in my head and I literally want to kiss the woman that owns the place. What the hell do they put in this stuff? I mean, it's just fricking cheese and bread! 
For dinner, I have Tagliolini Neri Agli Scampi, a.k.a. black tagliatelle pasta with shrimp. The shrimp are served whole and have claws -- I have never seen claws on shrimp before. Frankly, I wasn't sure what the heck to do with the damn thing. The matriarch mermaid, my grandmother, would be eating bits that would make me want to gag a little, sucking every bit of shrimpy goodness from the shells. I'll stick with the tail. Mom even offers me one of her lobster legs, which I decline. I'm just not that in to seeing the entire thing I'm eating on the plate, let alone sucking meat out of it's legs. I know that's graphic, but eeeewww...
Before we fall asleep, mom asks me how many rolls of toilet paper we have used since we've been here. She means the entire time in Italy. I ask why on earth that matters. She replies it would be interesting to know. 
Only to someone with a toilet paper fetish. 
Guess what I'm getting her a big old box of for Christmas?