We have 20 foot ceilings in our room. There's a column in the corner and a whimsical metal headboard that sort of makes me feel like a princess. The doors to the veranda are ten feet tall, and the louvered design on the metal "screen" door reminds me of my apartment at home. Except now I wish I lived in Rome. 
The apartment is set up with a vestibule area, and the door to our room is one of those seamless ones that blends into the wall. There are a few other doors, but the only person that seems to be here is Lady Ana. She's made us breakfast this morning of some biscuits, rolls and coffee and tea, which she sets up on the veranda. I may be in heaven.
We are thrilled to be putting on our own clothes, and ironically, both choose a hot pink dress. Mom looked totally cute in hers with an orange belt she got in Sorrento around the waist, so I opt for black pants and a red off the shoulder shirt with some ballet style flats. We look very chic for tourists, if I do say so myself. Rome seems to be much more fashionable than the south, and it's nice to see men in suits and ties rather than oddly colored pants hanging off their butts and untied high top tennis shoes. I guess saying that makes me officially old.
Damn. 
We head out to Fontana Di Trevi, which when overrun by tourists, looks a lot less magical. We stop for cannoli (me) and gelato (mom) which means a trip back to the apartment. Blasted lactose intolerance. Just in case you were wondering -- that doesn't mean I plan to STOP eating my way across Italy any time soon!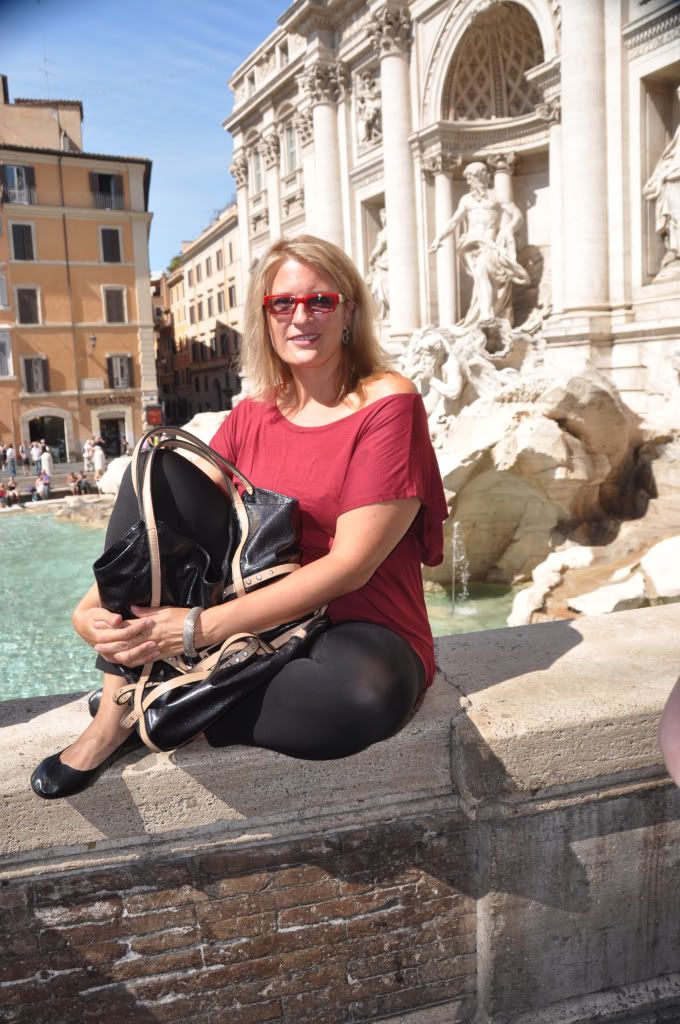 We regroup and come up with a plan...  Piazza Di Spagna to see the Spanish Steps, then on to Piazza Navona for more fountains, and on to Campo 'de Fiore. We plan to have dinner in the ghetto at this place I read about called Sora Margherita, which has no sign above the door. That will be fun to find, but it is supposedly an institution in Rome, so will be worth the hunt.
LATER THAT DAY:
My feet hurt. I actually wore a hole in the bottom of one of my shoes. In retrospect, not the best choice for hiking around Rome for about eight hours! We hit all of our marks except one, but since we added in the Palazzo Barberini and the Pantheon, I figure we made up for it. We have a lovely lunch at Il Palazzetto overlooking the Spanish Steps, which are much shorter than I imagined they would be. We both crave vegetables, which doesn't seem to rank highly on any menu we've seen so far. Mom wants broccoli and I could go for some zucchini. We get salad -- which is at least green -- and a little tipsy from the wine. I can always tell when mom is a little drunk when her nose gets pink. It's her signature sign. I will ask all of you who know MINE to mind your p's and q's...
After lunch, we stroll toward the Piazza Navona to wander throughout the artist stalls. On the way, we come upon a demonstration near the parliament building, which also happens to be in front of the Pantheon. I actually really enjoyed the Pantheon, with it's massive foot-thick doors and incredible stone dome ceiling. And you didn't have to pay to get inside. We did pay earlier to get into the Palazzo Barberini -- totally worth all five euros. The art was amazing, but the frescoes on the ceiling were unbelievable. I literally couldn't tell that they were painted on a flat surface without really training my eyes on certain areas. Barberini (a.k.a. Pope Urban VIII), was a great patron of the arts and invested heavily in projects throughout Rome, hiring sculptor Gian Lorenzo Bernini and the architect Francesco Borromini to complete a lot of the work. The Barberini coat of arms features three bees, which can be seen all over Rome on statues and monuments commissioned by the pope, including Fontana de Tritone (the Triton fountain).
By the time we get to Campo 'de Fiore (decidedly not very impressive, supposed to be buzzing in the evenings, but all the shops seem closed when we arrive at 8 pm), we are still not hungry for dinner so we scrap Sora Margherita and hop in a cab home. It seems like we are always eating, but all we really had today was a few biscuits for breakfast, salad and gelato. We decide to nosh a little on cheese and salami from the factory at Paestum while watching Italian TV. We make up our own lines since we can't understand much of what is going on.
Believe me... our version is much more entertaining.