Given how challenging life is as a pack mule just getting down the hill one last time, we've opted to forgo Herculoneum, but that gives me one more reason to add to a growing list of why I would come back here. 
While waiting at the Schiatzanno bus stop (pronounced ski-aht-sahn-no, which takes me a week to learn), there are some locals waiting in the shade across the street. At one point, I see what looks like the bus and begin gathering my things. The folks across the way come over and are not impressed to see a tiny tourist "train" ferrying passengers around the area for sightseeing pulls past. Scusi!
We stop at a store in Sorrento selling bags and I negotiate a deal on one with wheels and another more trendy shoulder bag. The strap ripped off my bag before we even got off the plane. The guy at the store is watching my flurry of packing activity with amazement. We are condensed and much more mobile in minutes. I think he may have applauded before he handed me a scarf for free, indicating I could use it to wipe my brow. 
Yes, Grandma -- I'm doing the heavy lifting. So I wonder why I'm so bent on working out given how much lifting and walking I'm doing. If my kilogram to pound conversion and Lucia's scale are correct, I've actually lost weight in Italy. Today, I carry four bottles of wine, all of the clothes I bought over the last few days, a bunch of toiletries, our travel materials, reading, my iPad and iPod, camera equipment, about six various chargers, a few gifts... and a partridge in a freaking pear tree. 
Now, let's go pick up our bags, shall we?
There are more musicians on the train, playing a song The Gypsy Kings does that I love. I'm mouthing the words with my head buried in my arms so as not to make eye contact. Eye contact costs money, proving we've learned a lot in a week. I wonder if when we "land" in Rome, if the learning process will start all over again. Maybe we'll get graded on a curve. 
Getting to the Naples airport isn't too difficult. We are offered a cab ride for 55 euro, but the bus costs 12 for both of us round trip. Don't you think that's a crazy difference? We just can't figure it out. 
Getting the bags takes a while, and when I'm ushered into the room where all the luggage is kept, I'm disheartened not to see it right away. They don't actually seem convinced they even HAVE mine. I find mom's tucked behind a luggage cart, and finally spot mine on the bottom shelf in another area. I can't wait to use MY shampoo, MY makeup and perfume. To wear a dress. To slip on my Vibrams and run through Rome. To fall asleep in my tank and the blue boxers with lemons on them instead of an airline-issued white t-shirt. I lean down and give my luggage a hug. Ti amo, bag.
We head back to the train station and check our bags to free ourselves to walk out for a bit. I'm adamant the day will not be a total loss, and ten minutes walk from the station is a pizza place touted to be the best in Naples, maybe the world -- Da Michele. The Condurros family has been making pizza since 1870. On my birthday last year, Julia Roberts ate here while filming Eat, Pray, Love. The place is pretty Spartan and the menu simple. They are famous for using only sweet San Marzano tomatoes and fiordilatte cow's milk. They have two kinds of pizza, pizza margherita and pizza marinara. We place an order for one of each and watch them making it in the brick oven. In just minutes, the pizza is on the table. A few more... in our bellies. 
I'm not big on pizza, but I must say -- the place doesn't disappoint. Mom says thanks, Dr. Selva, for the great tip!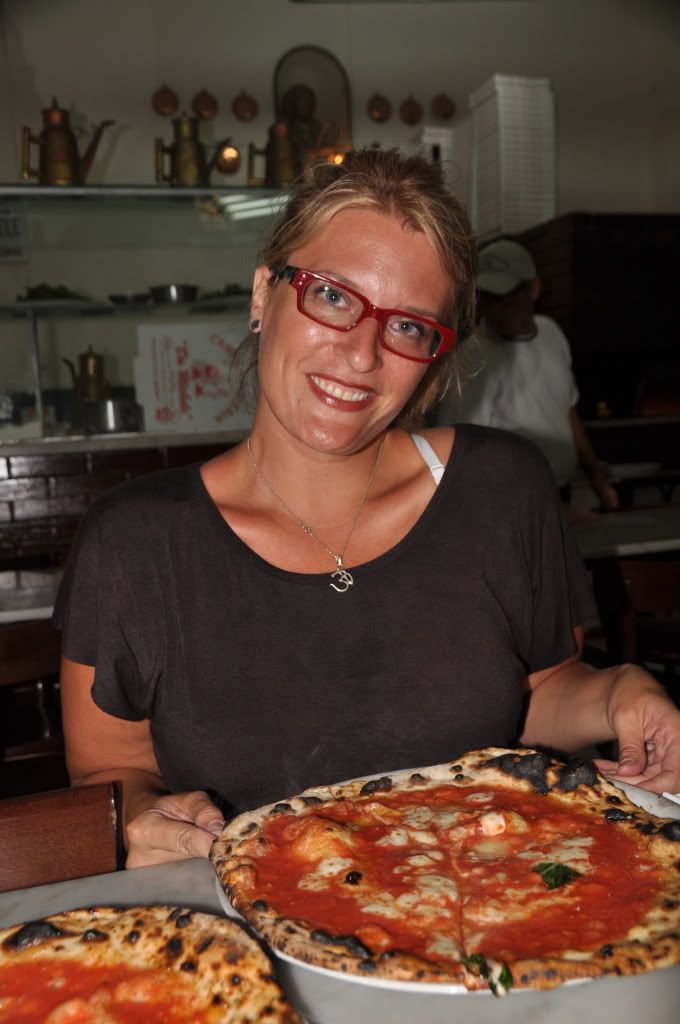 On the way back to the station. I attract a little fanfare of my own. A few Italian men call out "bellisima" while whistling. This is the first time anyone has been so aggressive, despite many queries from the home front on whether I've had my bottom pinched yet. The answer is no. Noticed, maybe. No touching, thankfully, but I hate to think what will happen when I don't look like a fashion fugitive anymore. 
In the meantime, we are watching the countryside pass on the train and listening to an operatic piece from Rigoletto. It will be dark when we arrive in Rome. That should make things fun.
I think we'll need gelato, STAT...