Paestum. I should include some history here, but must start by saying that when I was looking at Pompeii artifacts the other day and was floored by 15 A.D. -- ha ha ha. I just saw a building constructed around 500 B.C. That's Before Christ.
You probably knew that, but it needed saying anyway.
This is a little tidbit from Wikipedia, as the iPad is very no frills when it comes to the bells and whistles I usually put in my blog... links and pics and such. "Paestum is the classical Roman name of a major Graeco-Roman city in the Campania region of Italy... located near the coast about 85 km SE of Naples in the province of Salerno, and belongs to the commune of Capaccio, officially also named Capaccio-Paestum. The main features of the site today are the standing remains of three major temples in Doric style, dating from the first half of the 6th century BC. These were dedicated to Hera and Athena, although they have traditionally been identified as a basilica and temples of Neptune and Ceres, owing to 18th-century mis-attribution."
I wish we had more time, but we still plan to head to Capri this afternoon. Mom is also hot, and there are a lot of bugs. Despite, I want to walk around this huge complex and and touch things, imagining the people who lived here more than two thousand years ago. 
Afterwards, Angello -- the driver -- took us to a mozzarella factory where we taste some of the most amazing cheese I've ever put in my mouth. If I could get this home, I would in a minute. I just don't think mozzarella would last in my luggage.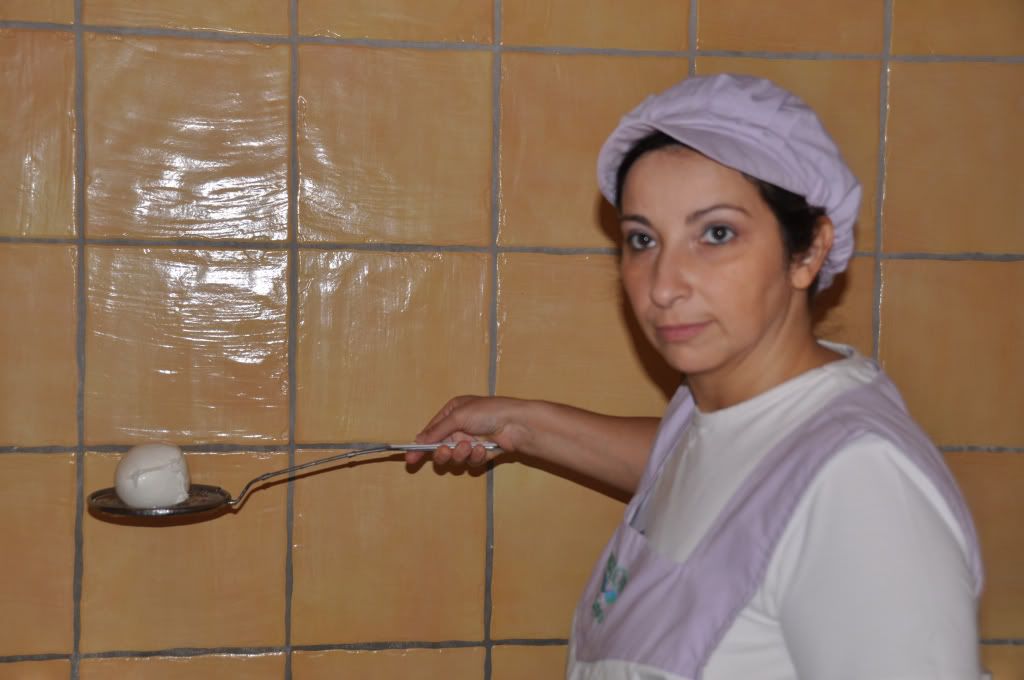 Oh... if I HAD luggage. Interested in an update on that? While in Naples onThursday, I finally catch Alitalia with their co liters up and running. They have found mom's bag, which is in Rome. Mine, they aren't sure yet. They say hers will be delivered in two days. That's today. Lucia calls this morning to tell us that our luggage is in Naples and we can pick it up there. 
I'm visualizing my happy place, which at present, is floating down a river in West Virginia.
I thank her and say we will call Alitalia. When I get them on the phone, I explain to the woman I am speaking with that while I understand that this is not her fault. I explain that we have spent four days without our things. I explain that we are not near Naples, that it would take us four hours to get there to pick up our luggage. Losing MORE time from our vacation over this luggage crap is not on the itinerary. I tell her, very clearly, that THEY lost our luggage and that I expect that THEY will deliver it to us directly. I then ask when it will arrive. She says tomorrow.
I won't hold my breath.