We packed up some stuff last night. That was a pain. From not having luggage for a week, and shopping, we've amassed ourselves quite a ridiculous amount of crap to lug around. It's kind of like Mermaids to Graceland, but without the car. Heres an inventory:
1. Mom's rolling bag
2. Mom's backpack, which is literally coming apart at the seams 
3. My backpacking bag
4. My camera bag
5. My large purse/the bag formerly used to carry crap when we didn't have luggage
6. A rolling cart filled with crap
7. A new large leather duffel bag filled with crap
8. One shopping bag filled with paper products we intend to ship via book rate at the post office, in addition to food stuffs we intend to send via Mailboxes, Etc (I'm convinced olive oil weighs more than a small child)
So, when we stroll out for good today down the three or four flight of stairs, I will be back up about two times to get all our stuff to the ground. Mom can't carry anything really heavy down -- it's just too hard on her. She really tries, but I keep taking the bags. Imagine, however, what I look like walking down the street with my backpack, a purse, a camera bag, a rolling bag and a shopping bag. Two words : pack... horse. Mom says she's the old nag. Thankfully we've arranged with Gaia to leave our luggage while we go to the Accademia to see my boyfriend. I won't spoil it. Read the next post for more. As has been said before... this is a piece of sculpture that once you see it, nothing else compares. Touché.
On to the Duomo, where the lines are long and we have no bigiletto. That's ticket, in case you couldn't figure it out. There is a relatively short line for the cupola, which is my main objective. Mom declines. I suppose paying 8 euro to walk up 462 steps does seem a bit daft in her opinion when you can do them for free all over the place. I think she would actually pay much more than that NOT to ever have to climb up stairs again. 
I get inside and about 75 steps up. It's very dark. And narrow. There are tiny windows set deep into the stone wall. Many are closed, impossible to look out. To see space. For fresh air. When you begin to get out of breath from the climb, everything gets even smaller. I'm going to die. Right here.
Have I mentioned that I'm a little claustrophobic?
More than a little, actually. When I'm on a plane, I have to be very careful NOT to think about it. That's a big open plane. This is a minuscule, closed stone stairwell with little ventilation or light. Panic is an understatement. I try and talk myself down from the ledge, looking out toward the light at one window, breathing. It's not working. I literally run -- and I mean RUN -- back down the stairs. When I reach the bottom, I do the only natural thing Amy would do... ask for a refund. They refuse, which is probably the best thing that could have happened. As the guard is trying to usher me out, I'm thinking... value for money. I could have bought a scarf for those eight euros. I tell him I'm going to sit for a moment and try again. It takes a little convincing, but he finally concedes. Theres another girl there that is in the same boat. She said it got worse near the dome, where there is a very skinny walkway and people not moving much.
Cuh-rahp.
It's now or never. I calm myself down and start back in. I concentrate on my feet, counting each step, stopping at every open window to breathe the fresh air and look outside. I can do this. I can do this. With every step, I get more excited. I AM doing this! I get to the first stop, where dusty statues stand behind a metal gate. It's an open room, still dark... but more spacious.  I continue up, where the steps become a spiral stairwell, narrowing further. Then there is a short walkway, and an exit to the inside of the dome, where plexiglass and a very narrow walkway make traversing around the large cupola difficult as people try and squeeze by in both directions. Its breathtaking in more ways than one.
On the other side, another door, more stairs. Narrower passages as the ceiling beginning to slope in from the left.  When someone comes from the other direction, heading down, one must back up and wait in order to pass. 
Wait... not good in this situation. It makes me a wee bit queasy simply typing about it now.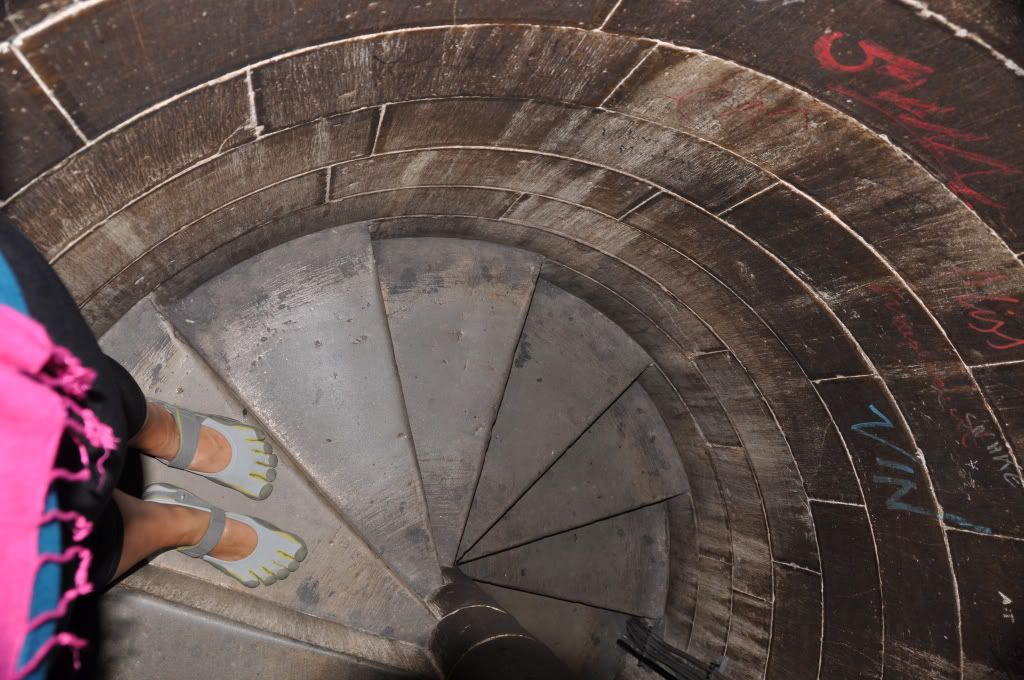 Then there is a steep climb straight up and a hatch to crawl through into the sunlight on the top of the dome. The view is spectacular, with all of Florence on display in a 360 degree view. The wind is whipping at my hair and the hot pink scarf I've used to cover my bare shoulders inside the church, cooling the dampness from the climb. The sun beats down, and I am exhilarated for having looked at a very real fear and literally climbed through it to the other side. I take a self portrait to commemorate the occasion.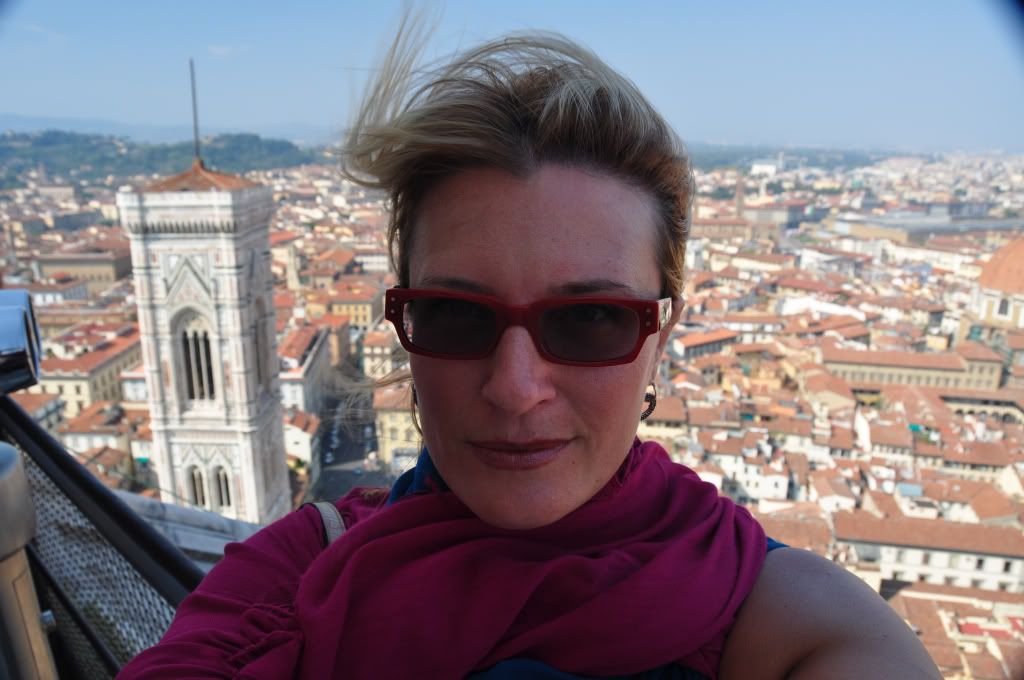 Yes, yes... I know I have to go back down. Just give me a second to enjoy the breeze, will you?
When I get back and find mom, we circle the wagons to collect our things, stopping for one last gelato on the way out of dodge. Laden with all our belongings, a horrible thought comes to mind -- it's effing siesta. The mailbox place will be closed. Is closed. Thankfully, when they see us standing outside ready to waiting the hour and a half until they are back in business, they open the door and allow us to keep our luggage inside while we go to the post office and grab lunch. There ends up only being time for the former. Between the post office and Mailboxes, Etc., we have now single-handedly saved Italy's economy from ruin. 
We curtsy. 
This next part shocks the hell out of me. I buy train tickets at the automated machine. I figure out which train to get on. We arrive in Venice where I buy water taxi passes for three days. I get us on and off the taxi and to our next abode -- all without a hitch. Our luck is definitely improving! Before I get too far, I have to say how utterly amazing it is to get off the train and see the canal right there. The buses on water. It's not really believable, so I'm sort of convinced we are in Disneyland. This thesis is proven further by the fact that we both feel like big mice wandering through the maze of streets. 
This might take some getting used to, or I could get used to this. 
Whichever.