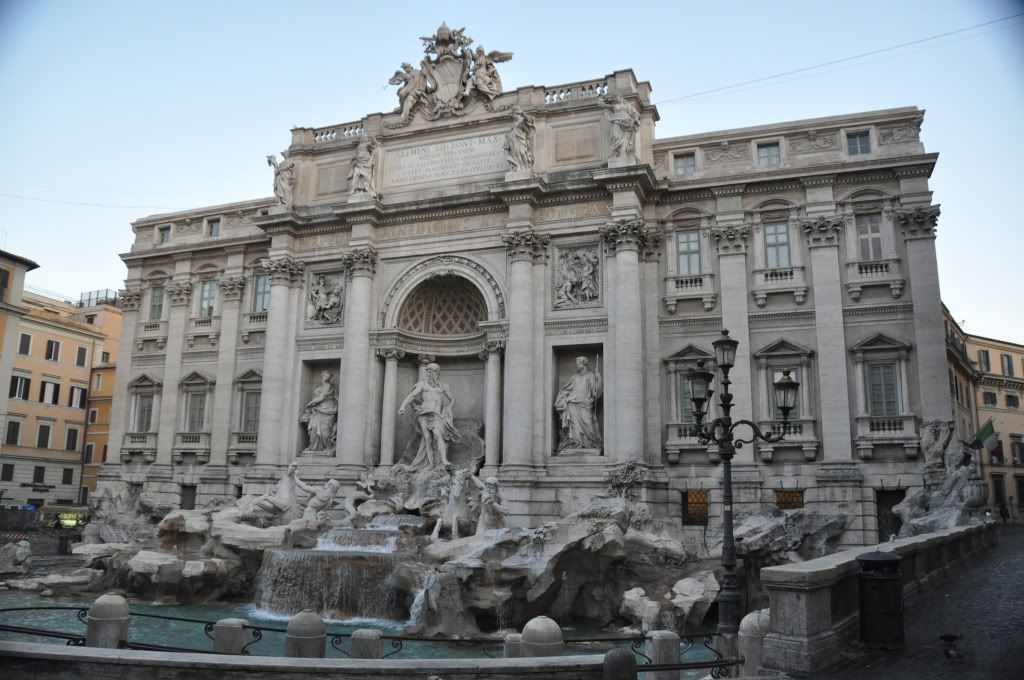 I've discovered something new this morning. Italians don't get up early. Tourists really don't either. I went running past Trevi Fountain and the Pantheon this morning and literally had them all to myself. I stretched while staring at all the curves and features of Trevi, and again while walking under the portico of the Pantheon, using the smooth marble columns for support. There were quite a few men making their way to work or opening shops and I think I could have paid for a really nice dinner had I just charged for ogling. I would say it was my Vibrams, but I'm wearing those on my feet. They were staring about four feet higher.
I also discovered that the mosquitoes in Rome like American, too. Unfortunately, they like the taste of mom better.
We hit the Vatican today, which as we learn from our fabulous guide (who just happened to be from Orlando, confirming my fears that this is actually owned and operated by Disney), that we are actually standing in another country. However, it's the Sistine Chapel that holds the biggest surprise for me. The most famous portion of the ceiling that Michelangelo painstakingly worked on for more than four years, standing up for 16 hours a day with brush overhead, is just a tiny fraction of the whole ceiling. The image of God touching Adam's finger to give him the spark of life is much, much smaller than I imagined. The final judgment painting borrows a lot from the pop culture of the time, heavily referencing Dante's Inferno. The piety of reform resulting in fig leaves being placed over all the nudity Romans used to embrace. That, coupled with the church's pilfering pieces of the Colosseum and the Pantheon to build St. Peter's Basilica leave a bit of a bad taste in my mouth. Love the art, but not the ostentatious display of wealth, which seems kind inappropriate when the mission of the entity is to help those in its fold.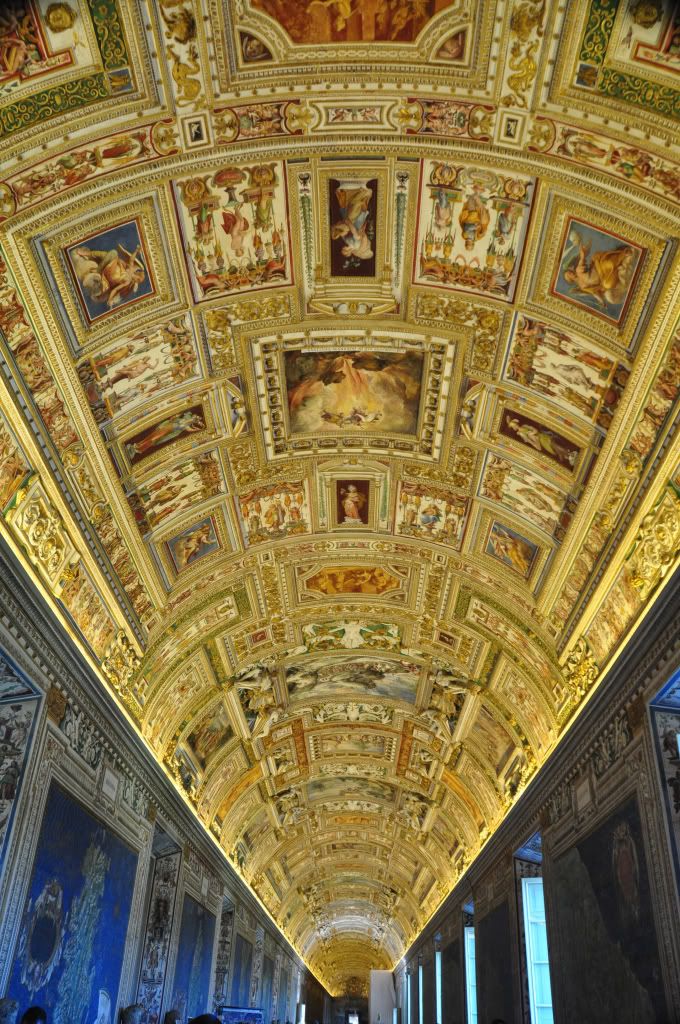 Mom's two cents worth: even though she's not catholic, she says the information was amazing. 
I drop mom back off at the apartment for a siesta while I make friends with Francesco, the most popular tie dealer in all of Rome, according to the source -- him. The tiny little shop will only fit him and I, which is fine, since he's ignoring everyone else anyway. Says he doesn't like their attitude. Apparently I'm okay, but since he says he counts all of Washington's congressman as customers, I'm skeptical about his judgment. He also says Portland's basketball players buy his ties. Anyway... very sweet man and we have a nice, very real, conversation before I'm sold on which patterns I like best. It reminds me of Fight Club, when Brad Pitt remarks about single serving friends. People have a lot of interactions like that. This is not that case with Francesco, and I appreciate that kind of experience... a lot.
Afterward, I head to the monk bone church, for lack of a better description and my complete inability to remember the proper name. The walls and ceilings are covered with the bones of dead monks. Hip bones, vertebrae, ribs, skulls -- all in amazing formations that look like mosaic. It is awesome. And it smells weird. Pics are not allowed, but I did sneak you one. Tech support (I heart you, Sarah Markel!) is working on figuring out how we can post these to the blog as I type. Eye candy soon... I promise!
We had a light dinner and I am happy for a big salad and mom for her fruit. We tried to ship our booty home to no avail today, so we are in trouble tomorrow as we load the pack mules -- meaning us -- for the train station. Destination Tuscany. Though I love Rome, I can hardly wait for the next part of our adventure. And driving in Italy should be fun. Mom will be curled up on the floor in the backseat praying, no doubt. 
There's another adventure I embark on tomorrow as well... I turn 37.