Amazing! We stepped off the train Wednesday night and onto the canal of Venice, Italy, that is water taxis, gondolas and charisma all it's own. Nothing will ever be quite like my first glimpse of the Grand Canal, okay except for "the David," after all, I am a push over for a great looking butt! Next big miracle -- that's right, two in a row... the girls are on a roll -- we buy the primo 36 hr vaporetto pass and it's right there at the dock waiting for us to board. We got to our stop in 30 minutes and walked straight to our apartment! Our host representative, a sweet nonna (that's grandmother in case you haven't taken the Rosetta Stone Italian course yet... I don't remember much of what I learned so grant me the indulgence to use it here please, lest it be wasted info), gives us cheek kisses all round and shows us upstairs to our room. She proceeds to give us all the details about our stay, including directions around town IN ITALIAN... even though we have told her several times in English and Italian that we don't understand what she is saying. She persists, and in spite of trying to use our phrase book, we are unable to get but just a few words. We keep saying ok and nodding and she leaves us to figure things out, with a warning (I think) that she is back on duty Friday! 
A quick shower -- in a shower the size of  half a phone booth -- and we are ready for bed.
In the morning, the second shower in less than 8 hrs is the best ever. God love me, there is a great hairdryer here, so my hair won't look like I was caught in an electric fan all day. I swear, when my hair was dry and brushed I heard angels singing! Mind you it isn't the crack of dawn but it is about 10 AM when we are finally out the door and off on our adventure to find Piazza San Marco. Many winding streets and photo ops later we arrive at the Doges Palace and the heart of the Piazza. Walking on the uneven stone streets is almost as difficult as navigating through the throngs of tour groups and tourists meandering around. We do some window shopping and then find a lovely "Tea Room" where the thought of enjoying the scenery while sipping tea sounds great! The waiter brings us a menu and carefully points out that the beautiful music we hear on the veranda automatically adds 6 Euros to our bill. Each. Since the band takes a short break, we make our getaway too.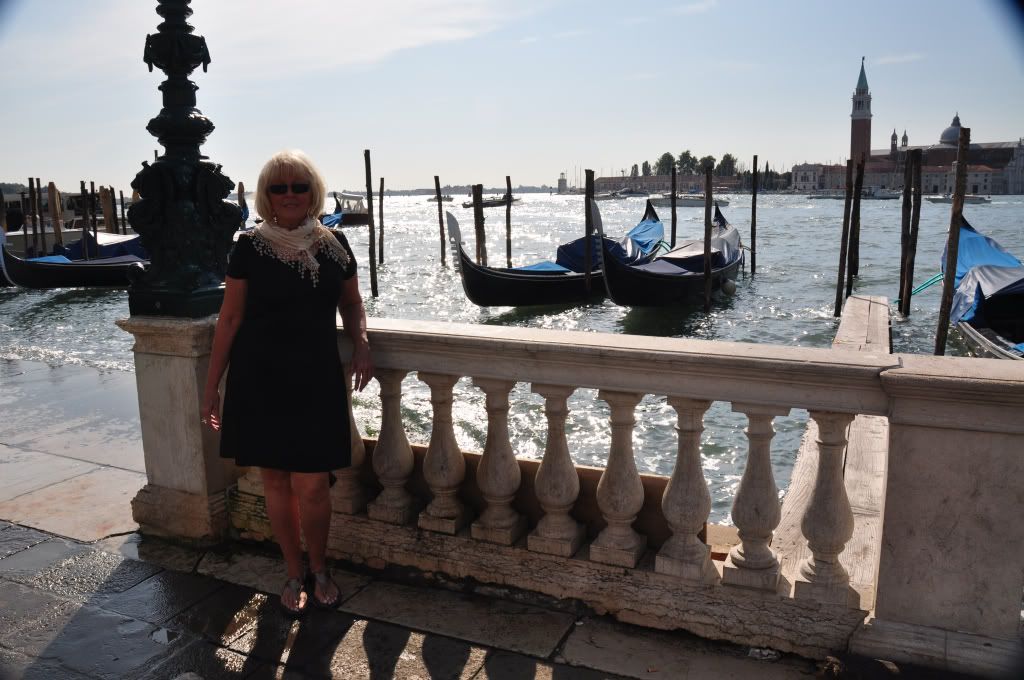 On the back streets behind the Piazza we stop at a couple shops with glass, then purses and finally... a lingerie shop, complete with crops, diamond studded handcuffs, and underwear that is tiny, tiny, tiny... and costs about 150 euros. The Bras are almost 250!!! They should throw in a complimentary pair of handcuffs for at price. What we DO come out of this fine establishment with is a recommendation for lunch. We promise to think about the lingerie and just about start a stampede to get out the door to lunch. 
I did say lunch right? Probably our most expensive lunch yet. Pappardelle with wild mushrooms for Amy, and if you know me, you won't be surprised to find that I ordered the gnocchi in red meat sauce.  I don't care what kind of sauce they put on a gnocchi, I am determined to have it as many ways as I can find it and only have 5 days left to try them all! We each have a glass of house wine -- really, it's cheaper than water... honest! -- of course, we have the water too, but I' m just saying... Add one after lunch Cappuccino and our grand total is 61 euros! Mamma Mia!!!
Strolling through the streets in a pasta induced stupor, we purchase a couple little fifty things and then suddenly we are in front of the Venice Opera house. Oh my. You know this is tugging right into the depths of our souls... wallets right? We did it! Bought front row box tickets center in the second tier to see Mozart's Don Giovanni. He's my favorite composer, so I was all in without hesitation. Ah, but what time does the Opera start you might ask? Seven o'clock this evening would be the answer! What is the current time? It's 4:30 pm! Ok, then let's do some fancy figuring... two women, one almost dressed properly for the opera, one probably not, currently located God only knows how far from where their clothes are, with absolutley no idea of how long it will take to get back, get changed and return to this place where they have just spent a days wages to see some fancy singing! 
I'm telling you I felt like I was on the "Great Race" show! Did we start our way back right away? Oh No! We went back to the Tea Room first and really had tea this time along with a fancy dessert. Now it's 5:40 PM and the race is on! We make a mad dash to the vaporetto and head to the Rialto Bridge, then sprint through some streets and back to another vaporetto that takes us closer to the apartment. Just so you get the total picture, this is high speed foot travel, and you must know that colors may run, silk stockings will run -- but KAREN doesn't run!!!! Yet here I am, running as if my life depended on it. The 100 euro dash is how I think of it! 
We make it back to the apartment on the fly while Amy is having someone call a private water taxi to take us back toward the theater.  In 20 minutes total, we are back at the dock. I can't even begin to tell you how fast this happened, how far we had to go etcetera, but it took me a good 15 min to catch my breath after we were seated on the boat. The cabbie (or is he a captain?) of this water vessel is very kind, right on time, but doesn't speak much English. He is able to understand that we are trying to get to the theater. Maybe our dresses helped the translation along, but if he would have looked at me carefully he could have just as easily thought we were headed to the emergency room. I had just caught my breath from our exhausting sprint when the captain dropped us close to our destination and told us how much the ride cost! Hope you are sitting down for this... 60 euros. Seems that when you call the private cab and tell him to meet you somewhere in 20 minutes, the meter STARTS at that moment and stops when he let's you out!  Note to self -- better time management is necessary! It is all worth it though as we make it to our seats with 15 minutes to spare.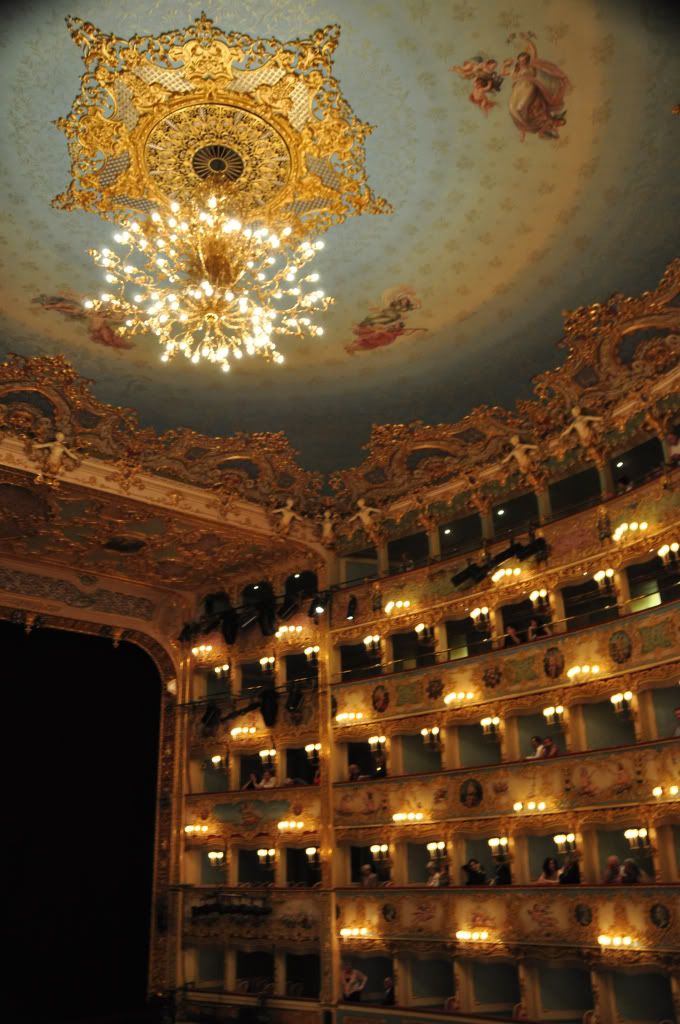 Don Giovanni... a real live opera in the "land of Opera" -- it's a bit like seeing the wizard of Oz in the Emerald City. Be still my heart!  Watching the maestro lead the orchestra in the opening number is great fun, especially to a music novice like myself. I am mesmerized by all the gestures and how the different musical sections just know what they mean and turn that into the most wonderful sound! Mozart, how did he ever hear all of this in his head while writing it down? How did he know it would sound so fantastic? When the curtain goes up, the actors are all just human but their voices are other worldly. The stage lights are placed so that their shadows are bigger than life on the  scenery wall behind them, giving this entire experience a significant grandeur! The story and the subtitles are  Italian, which makes it a bit more difficult to follow along. Basically, Don Giovanni is a cad and bounder who gets his just desserts in the end. 
Now with the opera over, all that's left is to find our way home. It's late. And the taxis aren't running.  A daunting task in the daylight, we now are challenged by darkness, a map that doesn't list many of the streets we find ourselves on, and shoes that are meant for looking stylish at the opera not running around the streets of Venice.  An hour later, we finally round the corner to the apartment.  
There's no place like home, but shouldn't there be a nice big hunk of cheese on the porch?